About Us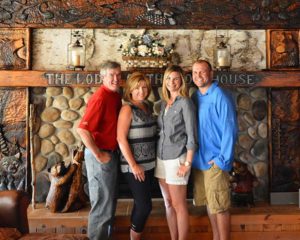 The Vonglis' and Ayers' have a long history of enjoying the Inlet area and have a love of the Adirondack Park. Tom and Laurie loved the area so much they bought a home on Uncas Road in 2005. "Our family has history here and we love sharing it with our children and grandchildren, friends and family". Jake has been coming up to the Old Forge/Inlet area since 1993 to camp at Nick's Lake, stay at Daiker's and snowmobile. He shared his love of the area with his wife, Heather, when they began dating and she immediately fell in love. We have all grown to become part of the local community and enjoy all that the area has to offer – golf at the Inlet Golf Club, snowmobiling on the inner trail system, kayaking on the ponds and lakes, enjoying the great community events and shopping, and so much more. Becoming the owners of such a beautiful resort is truly a dream come true for us. Providing a pristine location to spend your vacation with the best sunsets on Fourth Lake is something we are thrilled to share.
About The Property
Black Bear Lodges is a spectacular lakefront family compound, corporate retreat, or lakeside resort with five year-round homes. The main lodge is a true Adirondack treasure with all wood interiors and exquisite craftsman detailing. The newest of our lodges is attached to the main lodge with the same exceptional craftsmanship and a cozy layout. There are 3 beautifully furnished separate lodges that invoke the spirit of the Adirondacks.
All of our lodges provide tranquility and privacy with every convenience imaginable.
Black Bear Lodges is dedicated to making all your Adirondack vacation dreams come true ~ all year long.












"These properties are fantastic. Inlet is a cool area with lots of great day hikes and plenty to do with the family."
Darren Vogt






"Our family spent a week at Black Bear in July and had an amazing time. The Bear's Den cottage was so spacious and accommodated our extended family so well! Such a beautiful location!"
Meghan Leary






"The beach is sandy. The lodges are beautiful. Easy walking distance to Inlet. Rented for over 16 years."
Thomas Wimer